Writing Center
The Writing Center will be continuing its services online for the rest of the semester, starting March 23.
Appointments can be scheduled at  https://vt.mywconline.com/.  Graduate students, be sure to limit your view of each schedule to "specialized graduate support" to work with a graduate student.
There will be two types of schedules available:
Live Online Tutoring (Synchronous Online Tutoring)
Like our face-to-face tutoring, live online tutoring takes place in real-time with both the student and tutor "present." Both parties are able to view the student's work on screen and can communicate through audio/video or chat. Especially helpful for line-by-line editing help!
24 hrs. Later Feedback (Asynchronous Online Tutoring)
Unlike live online tutoring, 24 hrs. later feedback, or asynchronous tutoring, does not take place in real-time. Students will reserve slots on the 24 hrs. Later Feedback schedule and attach the most recent draft of their paper, along with the instructor's assignment sheet or prompt, and receive written feedback from the tutor within 24 hours of the appointment start time. The tutor will review the writing assignment for 45 minutes and make observations, pose questions, and suggest strategies for the improvement of your writing. Tutors will not be editing papers, but providing some editing suggestions.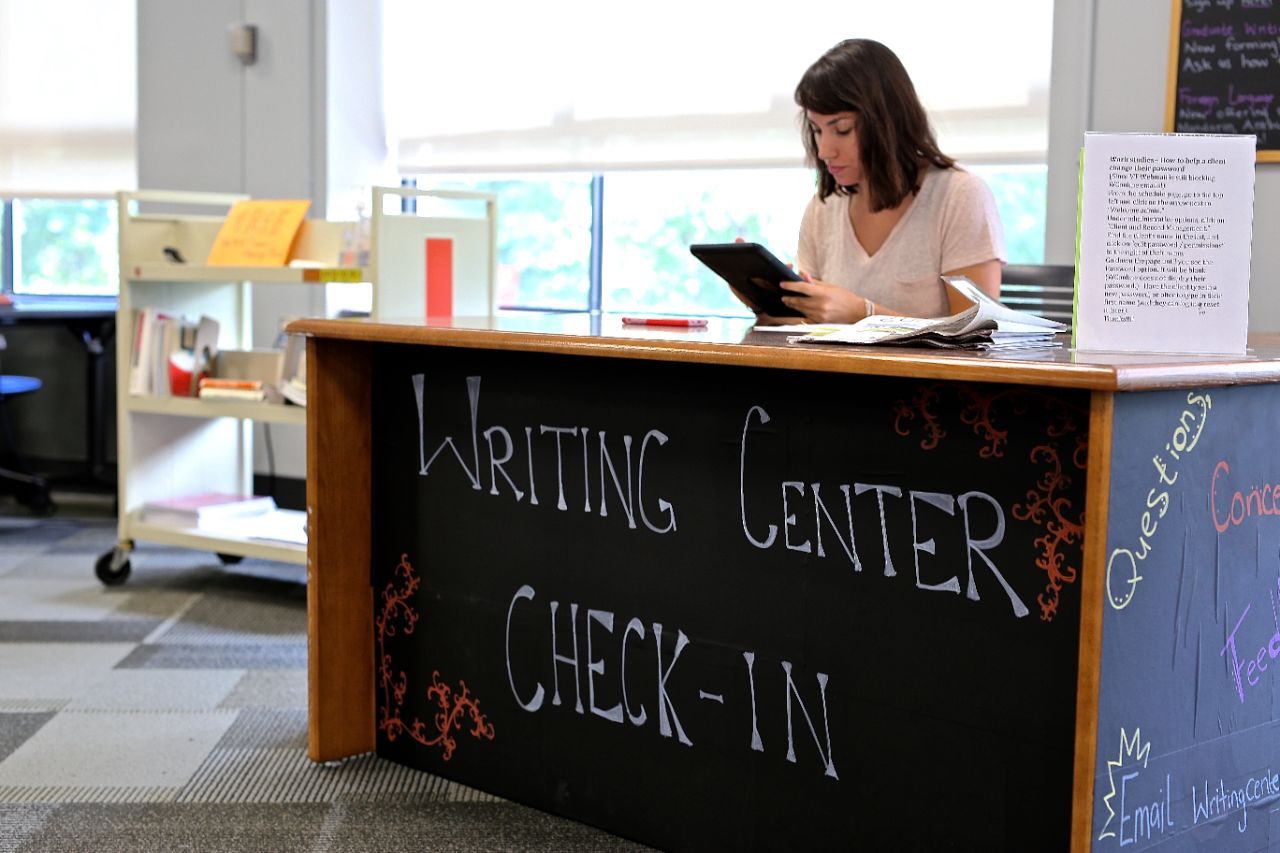 The Virginia Tech Writing Center is a free service for all Virginia Tech students, faculty, and staff, at all levels. We also are happy to assist Language and Culture Institute students and area high school students. We're located in Newman Library's second floor Learning Commons, just past the elevators.
We work with writing and reading assignments from any course in the University. We can also help you with writing projects that are not linked to classes.
While we try to accommodate walk-in sessions when possible, we strongly encourage you to make an appointment.
For other inquiries, email us at writingcenter@vt.edu or call us at (540) 231-5436.
Fall and Spring semesters:
Sunday:  6 P.M. - 10 P.M.
Monday - Wednesday:  10 A.M. - 8 P.M.
Thursday:  10 A.M. - 6 P.M.
Friday:  10 A.M. - 4 P.M.
Each fall and spring semester, the Writing Center opens on the second week of the semester and closes the day after Reading Day (the last Friday of the semester).

Summer I and II:
The Writing Center operates by appointment only during Summer sessions. You can log in to make an appointment at https://vt.mywconline.com/.
The Virginia Tech Writing Center aims to support all writers within our community and foster an environment in which students' learning differences are respected and addressed. We employ a diverse group of graduate and undergraduate writing coaches working in multiple disciplines across campus. We strive to uphold VT's global land-grant values of discovery, learning, and outreach. In doing so, we are committed to:
Supporting students in all stages of the writing process.
Encouraging and facilitating collaboration among students.
Celebrating language diversity and growth.
Promoting interdisciplinary understandings of thinking and writing.
Engaging in research-supported pedagogy and best practices.
We believe this view of writing, literacy, and research allows us to support our diverse VT community and challenges us to continually grow and shape our programs accordingly.
Like many university writing centers across the nation, the VT Writing Center was created in the early 1970s to support all students with their writing. Over the past decade, our Writing Center has experienced exponential growth under the direction of the current director, Jennifer Lawrence, and Dr. Diana George, who served as the director from January 2005 until retiring in June 2016. Notably, in the spring of 2012, the Writing Center moved from Shanks Hall to its current home, the 2nd floor of Newman Library. The Writing Center continues to play a central role in support of VT's mission by offering a place of interdisciplinary growth and cross-cultural collaboration, with a specialized focus in the art of written communication.

Writing Partners
Writing partners are matched up at the beginning of each semester for students enrolled in a first-year composition or other communication-centered course who would like weekly support with the same writing coach. These partnerships provide personalized and ongoing support to reach your writing goals. Writing Partner request form.
Writing Groups for Graduate Students
Graduate Writing Groups offer an opportunity for graduate students to write in a small workshop environment with the support and encouragement of other graduate students. The Writing Center facilitates the forming of interdisciplinary graduate writing groups, primarily during the beginning of the fall and spring semesters. To sign up, complete this google form.
Graduate Writing Mentors
Graduate Writing Mentors offer graduate students weekly writing support for graduate-level research projects, including theses or dissertation projects, conference presentations, and scholarly publications. To secure a weekly appointment with a graduate mentor, speak to a specialized graduate writing coach about their availability during a regularly scheduled conference time.
Online support for Distance Students
For synchronous online meeting, please request an appointment at least 3 days in advance, so we can connect you with a writing coach.

Foreign Language / Conversation Groups
The Writing Center is pleased to offer support in a variety of languages.  Check the writing center schedule (choose the foreign language / conversation group option and language focus) to see the support available. 
Volunteers wanted!
Do you have a language to share? Would you like to lead a conversation group? We would love to hear from you! Please fill out the following volunteer form.
Writing Center Coach positions (undergraduate):
Would you like to develop your communication skills by working as a writing center coach in our campus writing center?
If so, you must first apply to take the tutor training course, English 3744H: Writing Center Theory and Practice.
You do not have to be an English major, or even in the humanities. In fact, the students from STEM disciplines find it to be a particularly distinctive addition to their resumes.
Check the current timetable to see when the course is held, although some of the class times are dropped in order to allow for internship hours in the Writing Center. After completing the course, you may apply for a coaching position (which pays $10.00/hour).
Application link: https://goo.gl/forms/NcyF0zTiyLvOSD182
Work study positions:
The Writing Center employs a few office assistants through the Federal Work Study Program. To apply for an office assistant position, you must have been awarded and accepted Federal Work Study on your financial aid notification (through the FASA), available on Hokie SPA. Pay is $8.00/hour.
Application link: https://goo.gl/forms/JMgnm2LBI1qfGWfz2